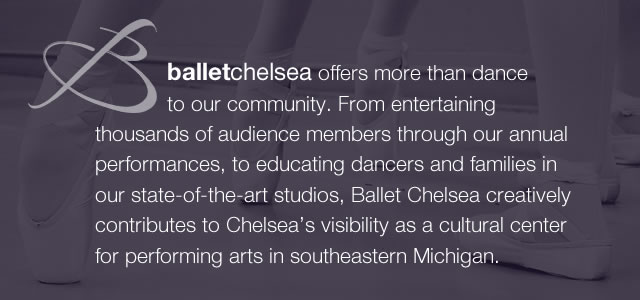 High caliber instruction and performances reaching all ages in Southeastern Michigan
Ballet Chelsea provides the highest caliber instruction to over 300 dancers from beginning ballet to pre-professional level, participating in such elite festivals as Youth Grand Prix and Michigan Youth Arts Festival.
Our performance company presents high quality events such as The Nutcracker in December and our premiere performance of Giselle coming this spring. Our audiences include 3,500+ people of all ages from all over southeastern Michigan, and helping put Chelsea in the forefront of cultural and performance arts in Michigan.
How you can help support performing arts
Corporate Sponsorship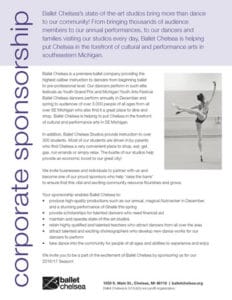 We invite you to partner with us and become one of our proud sponsors who help "raise the barre" to ensure that this vital and exciting community resource flourishes and grows.
Your sponsorship enables Ballet Chelsea to:
produce high-quality productions
provide scholarships for talented dancers who need financial aid
maintain and operate state-of-the-art studios
retain highly qualified and talented teachers and exciting choreographers
take dance into the community for people of all ages and abilities to experience and enjoy
Advertise in Our Season Program
Reach Ballet Chelsea audiences by advertising your business or organization in our annual season program. Ballet Chelsea's season program is a high quality 5.5" x 8.5" booklet, printed in glossy black and white; it will be used for all 2016/17 season performances including: The Nutcracker, Giselle, Limitless, and An Evening of Original Works.
Ad space is limited. Artwork deadline is Nov 1, 2016 and can be sent to bizads@balletchelsea.org.
Questions?
We would love to hear from you! Please email Lori at execdirector@balletchelsea.org with questions about sponsorship or advertising.