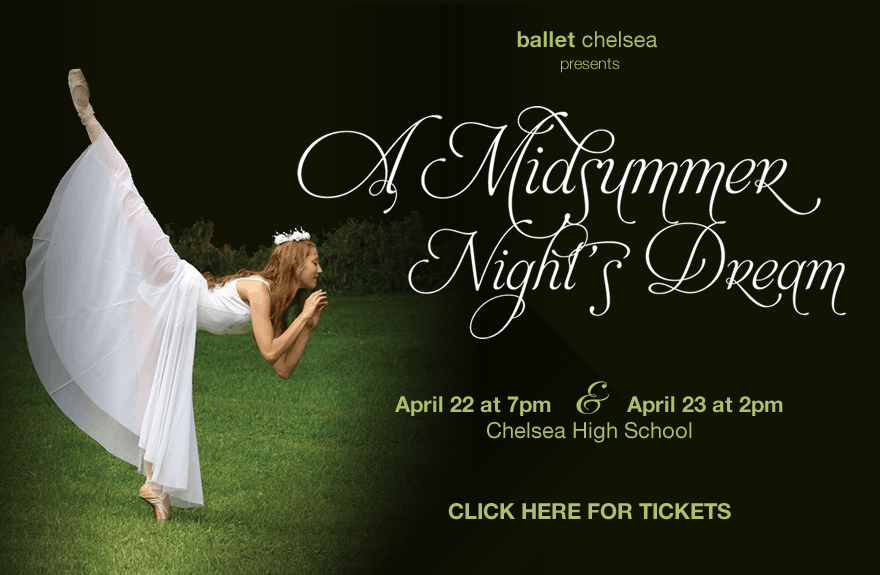 Ballet Chelsea is pleased to invite you to its premiere performance of A Midsummer Night's Dream and Les Sylphides on April 22 and 23, 2016.
Performances take place at the Chelsea High School Auditorium (740 N Freer Rd, Chelsea, MI 48118). This story will be enjoyed by audiences of all ages. If you love the The Nutcracker, Sleeping Beauty and Swan Lake, don't miss this magical performance!
The Story
The ballet A Midsummer Night's Dream is a down to earth comedy and fairy tale romance, augmented by fairies, fireflies, and creatures of the forest. The ballet has widespread appeal for artists and audience members alike. Based on Shakespeare's richly poetic descriptions of the fairy kingdom, this performance features music by romantic composer Felix Mendelssohn.
In addition, Ballet Chelsea will be performing Les Sylphides, a one act ballet set to the music of Frédéric Chopin. This "romantic reverie" is based around a young poet out walking when he encounters sylphs (spirits) dancing in the moonlight. This famous ballet is performed by nearly every professional ballet company in the world.
Purchase Tickets
Tickets are available online at www.balletchelsea.org and at the door at the performances. The show is appropriate for all ages. Refreshments and flowers will be available for purchase before the show and during intermission.