Dear Ballet Chelsea members, students, families and friends,
The American Girl Doll Raffle is here! Tell your friends, family and neighbors, post it on Facebook and share via email!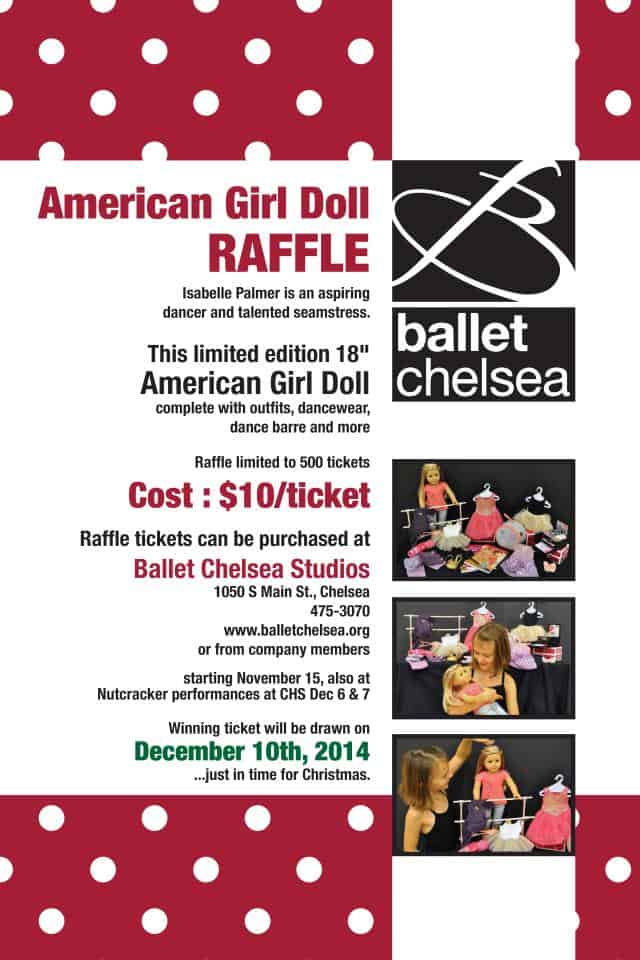 What is this raffle all about?
Ballet Chelsea is raffling the 2014 American Girl Doll of the Year Isabelle Palmer …an aspiring dancer and talented seamstress. This limited edition 18″ American Girl doll is complete with outfits, dance wear, dance barre and accessories for a total value of $485.
Tickets are $10/ticket and the raffle is limited to 500 tickets.
The winning ticket will be drawn on December 10th at 6 pm at the Ballet Chelsea Studios (need not be present to win). Friends and family from out of town…no problem. If the winning ticket is from out of town, we will ship to their address.
Buy Tickets
Where can you get tickets:
If you're a Ballet Chelsea family and would like to take tickets to sell at work, at Thanksgiving, church, send an email to info@balletchelsea.org or call Jamie at 734-644-4875
Jamie Adkins
Fundraising Co-Chair
Ballet Chelsea