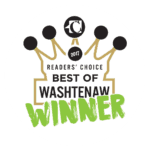 Ballet Chelsea was recently voted the Best Dance Company in Washtenaw County by Adams Street Publishing's Current Magazine.
Current Magazine, which covers all things music, art, and culture in Washtenaw County, announced the winners of its "2017 Readers' Choice Best of Washtenaw" in its special-release June edition.
Jane Thompson, president of the Ballet Chelsea Board of Directors and Lori Walters, executive director, were on hand Thursday June 22, at the "2017 Best of Washtenaw Party" to receive the award.
"Best of Washtenaw" awards are given annually and are determined by Current Magazine readers by popular vote. The categories and nominees are vast and winners were selected from over 4,000 readers casting their votes for their favorite local businesses.
Ballet Chelsea would like to thank all those who voted for us as "Best Dance Company" in Washtenaw County!
About Ballet Chelsea
Ballet Chelsea is a 501(c) (3) non-profit organization, which provides professional-level dance training to young dance students, through performance opportunities, enrichment activities, master classes, summer intensives and pre-professional studies. Ballet Chelsea's varied curriculum includes Ballet, Pointe, Contemporary, Jazz, Conditioning, Highland Step and more for students ages 2 through adult.  Ballet Chelsea also offers an Adaptive Dance Program that brings creative movement to people of all ages with physical and cognitive specialized needs.
Ballet Chelsea is proud to be supported by the Wilkinson Foundation.
For more information, please visit www.balletchelsea.org or call 734-475-3070.
Read More: Readers Choice Winners
Click image below to see all the Arts & Culture Winners from Current Magazine's 2017 Readers Choice edition: