Ballet Chelsea's Past Events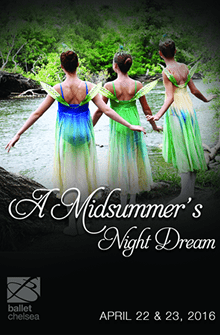 A Midsummer Night's Dream: April 22-23, 2016
Ballet Chelsea presents its premiere performance of A Midsummer Night's Dream, along with the classic Les Sylphides. Join us for a performance full of fairies and magical creatures of the forest. Join us on Friday, April 22, 2016 at 7 pm, and Saturday, April 23, 2016 at 2pm
The Nutcracker: December 5-6, 2015
Ballet Chelsea proudly presents its 18th annual performance of this family favorite, The Nutcracker. Join us to kick off the holiday season on December 5, 2015 at 2 pm and 7 pm, and Sunday, December 6, 2015 at 2 pm
Sugar Plum Tea – Sunday, December 6, 2015
Add a festive touch to your event by attending our Sugar Plum Tea on December 6, 2015 at 12:30pm, prior to our Sunday matinee performance
Multiplicity: April 25, 2015
Ballet Chelsea presents Multiplicity, a professional caliber, mixed repertoire concert. From a 16 member corps de ballet to exciting and fierce contemporary movement, there is something for everyone in this diverse program.

Sleeping Beauty: March 27-28, 2015
Ballet Chelsea presents Sleeping Beauty, a magical story where true love's kiss leads to happily ever after, is a ballet favorite set to music by Pyotor Ilych Tchaikovsky and choreographed by Ballet Chelsea director, Wendi DuBois.

The Nutcracker: December 6-7, 2014
Ballet Chelsea proudly presents its 17th annual performance of this family favorite, The Nutcracker. Join us to kick off the holiday season!
Sugar Plum Tea – Sunday, December 7, 2014
Add a festive touch to your event by attending our Sugar Plum Tea prior to our Sunday matinee performance.
Don Quixote: April 26-27, 2014
Ballet Chelsea is thrilled to bring its premiere production of this popular ballet to the stage. Don Quixote centers around the flirty Kitri and her love, penniless barber Basilio. Kitri's father, Lorenzo does not approve of their relationship, and wants his daughter to marry the rich, foppish nobleman Gamache. Don Quixote, the chivalrous, aging knight, arrives in Barcelona and dreams unfold.
The Nutcracker: December 7-8, 2013
Ballet Chelsea proudly presents its 16th annual performance of this family favorite. Join us to kick off the holiday season!
Sugar Plum Tea – December 8, 2013
Add a festive touch to your event by attending our Sugar Plum Tea prior to our Sunday Matinee
Note: In 2013, Youth Dance Theatre (YDT) changed its name to Ballet Chelsea. 
Dare To Dream
With Dare To Dream, YDT brought new challenges to its dancers. Classical and contemporary ballet choreography by Marius Petipa and Wendi Dubois was set against liturgical and modern choreography by Meredith Nelson and Alyssa Alger. Accompaniment by Ily Blinov, piano; Sarah Cumming, cello and Ian Cumming, violin provided a special touch to a piece dedicated to Jenni-Lyn Watson. YDT's dancers learned challenging choreography and performed before appreciative audiences. Professionalism was in abundance.
Nutcracker 2010
YDT's 13th Nutcracker was another success. Under Wendi's tutelage, with support from Alyssa Alger, Rhonda Kendzicki and Kyle Kooyers, our young dancers were challenged to learn new choreography, new technique and new ways of expressing themselves on stage. YDT's program is about training and education. Every role challenged the dancers to achieve new levels of expression. Every one rose to that challenge. Thank you to all for your support and participation!
Sleeping Beauty 2010
The Sleeping Beauty, a ballet favourite set to music by Pyotor Ilych Tchaikovsky, was interpreted by YDT's Artistic Director, Wendi DuBois and set on YDT's cast of 55 young dancers. This is the second season that YDT has presented this challenging work, which included choreography by the master Marius Petipa, as well as original choreography by Wendi.
Nutcracker 2009
2009 marks Youth Dance Theatre of Michigan's 12th performance of The Nutcracker, featuring choreography by YDT's Artistic Director Wendi DuBois. Our 55 young dancers performed all but one of the dancing roles, YDT is proud to truly represent itself as a Youth Dance Theatre. Our only guest dancer is an alumnus of YDT, and has maintained his involvement since high school. We expanded our program with two Sugar Plum Fairy Tea parties this year to allow more of our younger guests to meet the performers before the show began.
Awakening
To celebrate (and perhaps hurry) the coming of Spring 2009, YDT presented Awakening. Our dancers performed nine pieces to music by composers ranging from Antonio Vivaldi to Nuyorican Soul and including Andreas Vollenweider and Claude Debussy. The show featured classic choreography by Marius Petipa and Jean Coralli with Jules Perrot as well as contemporary interpretations of newer and classical music by Erik Abbot-Main, Wendi DuBois, Rhonda Kendzicky and Carrie Schotte. YDT was honoured to have live accompaniment by Nathan Peters, Lester Castellana and Sara Cumming for Vivaldi's Winter to open the show and to have Cynthia Standefer, Nathan Peters, Ian Cumming and Sara Cumming perform Mozart's Flute Quartet In D Major when we needed a few extra minutes back-stage.
Nutcracker 2008
On December 5th, 6th and 7th of 2008 YDT presented its 11th annual The Nutcracker. This production was our 10th anniversary Nutcracker production; we are proud of the strides in quality over that decade. Many thanks to our dancers, their parents and the Board of Directors for the effort that goes into such an endeavour. We also offer a big Thank You to our committed audiences – your presence energises us! YDT hosted Sugar Plum Fairy Teas on Saturday and Sunday afternoon. Many young visitors had their photo taken with the Sugar Plum Fairy while parents and children partook of the tea and biscuits provided by YDT volunteers.
Five Dancing Princesses 2008
On Saturday, April 26th at 2:00 PM and 7:00 PM and Sunday, April 27th at 2:00 PM, YDT presented its 2008 production of Five Dancing Princesses. Five Dancing Princesses is Wendi DuBois' light-hearted interpretation of the Grimm Brothers' tale The Twelve Dancing Princesses. Set to music by Wolfgang Amadeus Mozart, Wendi DuBois' choreography set on YDT's dancers tells the story in an unforgettable manner.
Nutcracker 2007
On Saturday, December 8th at 2:00 PM and 7:30 PM and Sunday, December 9th at 2:00 PM, YDT presented its 2007 production of The Nutcracker. The Nutcracker, a seasonal favourite set to music by Pyotor Ilych Tchaikovsky, is interpreted by YDT's Artistic Director, Wendi DuBois and set on YDT's cast of 63 young dancers. The Nutcracker is the story of a girl's discovery of the meaning of love, family and life through the intervention of a dreadfully ugly, but magical, nutcracker. YDT hosted a Tea with the Sugar Plum Fairy on Sunday afternoon at 1:00.
Encore! 2007
In April 2007, YDT presented this program of choreography set to music by Great American Composers: George Gershwin, Philip Glass, John Williams, Benny Goodman, Count Basie, Aaron Copland, David Arkenstone. We also included musical presentations by local performers of Gershwin numbers, and the occasional new piece (I'm Gonna Find Another You and The Girl I Mean To Be).
Nutcracker 2006
Each December, YDT members perform Tchaikovsky's classic holiday ballet, The Nutcracker, to packed houses at Chelsea High School. Directed by Wendi DuBois, each year brings new dancers and updated choreography and costumes. This production is narrated making it unique and especially fun to attend.
Sleeping Beauty 2006
To the music of Tchaikovsky and original choreography by Wendi DuBois, this narrated ballet tells the familiar story of Sleeping Beauty. Lighting and staging, designed by Zac Law, an alumni of YDT and student in stage management at Western Michigan University. This ballet was premiered on April 29th 2006 and will remain as part of YDT's repertory for years to come.
Gershwin 2005
A change in style and pace with creative choreography to the music of George Gershwin.  Featured pieces include the familiar Rhapsody in Blue; American in Paris and Concerto in F. Less known works such Rialto Ripples Rag and Cuban Overture were also exhibited. This program also involved live music by pianist John Kramer with vocals by Rebecca Anderson and YDT members. Visual arts tell the story of Gershwin's life and local jazz bands showcased his music before the show.
Five Dancing Princesses (2003 and 2004)
This ballet based on the Grimm brothers' fairy tale Twelve Dancing Princesses was commissioned by YDT, choreographed by Wendi DuBois and first performed in part in 2002. Full performances were given in 2003, and again in 2004. This work will remain as part of the YDT repertory.