B In Motion – Fitness from Prenatal to Preschool
We're all aware of the benefits of being active. But our vision of regular physical activity changes throughout pregnancy and new motherhood due to physical and environmental restraints. How little time we have to focus on fitness when our days become time-warps of tending to little ones' needs on top of our already busy schedules.  
B InMotion strives to break down the barriers to physical activity from Pregnancy to Preschool. Our fitness program embraces our changing body and lifestyle by accommodating the changes we experience through pregnancy and the first year. Moreover, our TOTS InMotion series coaches parents and caregivers on how to incorporate our little ones into a challenging and enjoyable fitness session that they can easily practice at home.
New to Ballet Chelsea? Just click "Create Account" to register.
Download printable PDF with class descriptions & pricing
Our 10 week sessions run from March 17 through June 3, 2016, and include:
MOMS InMotion – Prenatal Fitness & Learning Forum
Friday evenings at 6:30pm
The MOMS InMotion Program incorporates safe and efficient physical conditioning to maintain or enhance the expectant mother's physical and cardiovascular stamina. A guided meditation follows the 45-minute fitness component before enjoying a snack and settling into a half-hour discussion covering topics relevant to pregnancy, childbirth and the early postpartum period.
Moms & Babies InMotion – Post-Natal Fitness (6-weeks – 12-months)
Friday mornings at 9:30am
The MOMS & BABIES InMotion Program offers moms an opportunity to rehabilitate physically, tone and strengthen following pregnancy and childbirth by focusing on the physiological changes that are unique to the postpartum body. Babies are incorporated into the program and delight in acting as a natural resistance to many of our toning exercises.
Tots InMotion – Caregiver & Toddler Fitness (13-24 months)
Friday mornings at 10:45am
In TOTS InMotion, the caregiver participant is challenged with a cardiovascular and muscular conditioning program in a format that they will easily incorporate into their at-home fitness regimen. The child is engaged by their caregiver during the workout with a focus on socialization, and developmentally appropriate fine and gross motor skills.
Tots InMotion II – Caregiver & Preschooler Fitness (25-48 months)
Thursday afternoons at 1:30pm
The TOTS InMotion II Program is for caregivers and pre-school aged children. The caregiver is challenged with cardiovascular and muscular conditioning in a format they will easily incorporate into their at-home fitness regimen while engaging the 2-4 year old who is invited to mimic the movements of their adult counterpart.
Our B InMotion Instructors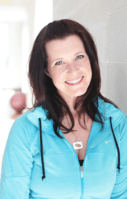 LEIGH SCHWARZ is an active member of the local Chelsea community and is thrilled to be tapping into her experience as a pre and post-natal fitness instructor through Ballet Chelsea's fitness program, B InMotion!
As the Founder of Oh Baby Fitness, a pre and post-natal fitness company in Ontario Canada, Leigh has empowered almost 1,000 women through fitness and education.  Her certifications include, Baby & Me Fitness™ Instructor, Can-Fit-Pro™ Fitness Instructor Specialist, Can-Fit-Pro™Pre & Post-Natal Fitness Specialist, Resist-a-Ball™ Instructor.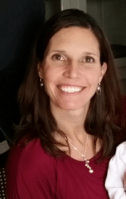 STACY SHEETS lives in Chelsea with her husband and two boys and has been a personal trainer at a local wellness center since 2002!
Being passionate about treating the person holistically, Stacy places a strong focus on overall wellness; mind and body.  
With a BS in Health & Wellness from Olivet College along with certifications as an ACE Personal Trainer, Resist-a-Ball™ Instructor, and Certified Wellness Coach, Stacy brings experience, passion and a genuine concern for her clients' well being.