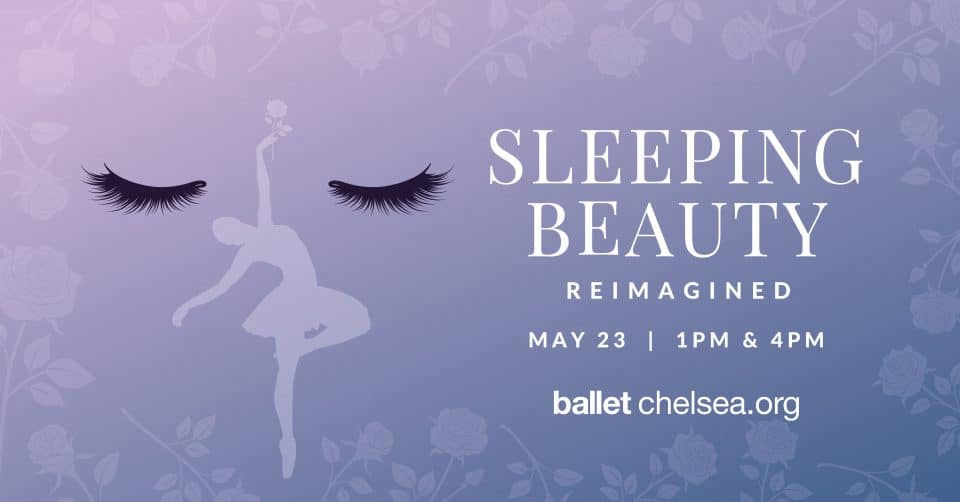 Ballet Chelsea will be performing a unique adaptation of Sleeping Beauty. This performance will be held at Robin Hills Farm, Sunday, May 23, two performances at 1 pm and 4 pm. Sleeping Beauty is Ballet Chelsea's last offering for the season and represents a culmination of a year of extraordinary performances. Tickets are $15 and will go on sale May 14 and can be purchased on our ticketing page.
This production is unlike Ballet Chelsea's traditional fully staged rendition. Performed without sets, drops, or props at Robin Hills Farm's amphitheater, the ballet uses the natural beauty as the only backdrop. This abbreviated production embodies Ballet Chelsea's desire to stay relevant and adapt in how they teach and create performances.
Tchaikovsky's lengthy three-hour score has been pared down to slightly over an hour. The narrative of Ballet Chelsea's performance differs from the traditional fairy tale as told by Charles Perrault and the Grimm Brothers.
Prince Philip is portrayed as a younger brother who matures from a carefree boy to a brave young man as he seeks to save his sister from Maleficent's angry spell. He refuses violence, choosing instead to appeal to Maleficent's better nature. Without giving away the ending, the ballet culminates in a celebration attended by fairies, friends, and family. Ballet Chelsea's rendition of the classic fairy tale focuses on the power of community support and love.
Wendi DuBois, Artistic Director, and her dancers have been busy this past year. DuBois summed up the year – "Since the pandemic started, we have sought to creatively bring dance education and performance to our communities, through an online learning page and virtual classes. Last year's Nutcracker was filmed and shared as a drive-in movie, and multiple collaborations, with other artists, were offered virtually through Youtube."
Recent virtual collaborations include Play • Dance • Paint, a visually stimulating and musically brilliant performance including works like Winter from Vivaldi's Four Seasons and music by Beethoven, Grieg, Prokofiev, and more! Ballet Chelsea partnered with the Jackson Symphony Orchestra and the Jackson School of the Arts to showcase the creativity of their respective communities.
Ballet Chelsea partnered with Chelsea Chamber Players to create Reflections. This virtual collaboration celebrated the art that binds our communities together by taking an intimate look at the vitality of the arts during the pandemic. This production was to honor and support Ballet Chelsea alum Lauren (Mitchell) Wolffis, a nurse, wife, daughter, and friend recently diagnosed with cancer.
Ballet Chelsea was also selected as a 2021 Michigan Youth Arts Festival participant, held virtually this year. "Light" was chosen to be performed at the Saturday, May 15 Dance Concert. As a special honor, this new work by DuBois was also selected for inclusion in Michigan Youth Arts Festival's Thursday 7 pm Welcoming Celebration Concert on Thursday May 13 at 7pm.
Ballet Chelsea will be finishing their fiscal year with a performance of Sleeping Beauty that celebrates resiliency. Throughout the past year, Ballet Chelsea has kept the arts viable. "Our students continue to train, learning to immerse themselves in different experiences." shared Jean Delwiche, Studio Manager. "The past year has sustained our belief that the arts have the power to bring light and life while strengthening bonds within our communities."