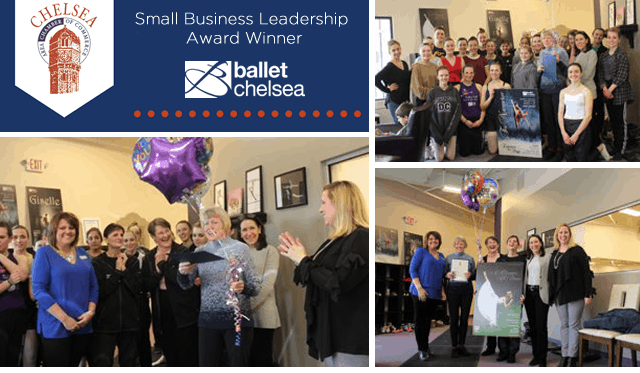 Thank you to the Chelsea Area Chamber of Commerce for choosing Ballet Chelsea to receive this year's Small Business Leadership Award! Jane Thompson, president of the Ballet Chelsea board of directors, called the award "a wonderful surprise" and said it was "wonderful to be recognized by so many business people in Chelsea."
"We're truly grateful to be part of a supportive arts community," said Wendi DuBois, artistic director for Ballet Chelsea.
The Small Business Leadership award is given each year to a chamber member that has shown leadership in the following areas:
Displaying innovative ideas and services.
Contributing to the economic impact of the City of Chelsea.
Providing services that meet the needs of the Chelsea area community.
Enhancing the uniqueness of the community image.
Demonstrating leadership in their business category.
Supporting the activities of the Chelsea Area Chamber of Commerce.
Ballet Chelsea will be formally honored on Thursday, Feb.15, during the Annual Membership Meeting of the Chelsea Area Chamber of Commerce at the Chelsea Comfort Inn and Village Conference Center.
In addition, the company will have a place of honor in the 2018 Chelsea Fair Parade in August.
Visit Chelsea Update to read full article: Ballet Chelsea chosen as Chelsea Chamber 2017 small business leadership award winner (1/29/18, ChelseaUpdate.com)
Photos: Courtesy of Chelsea Update.