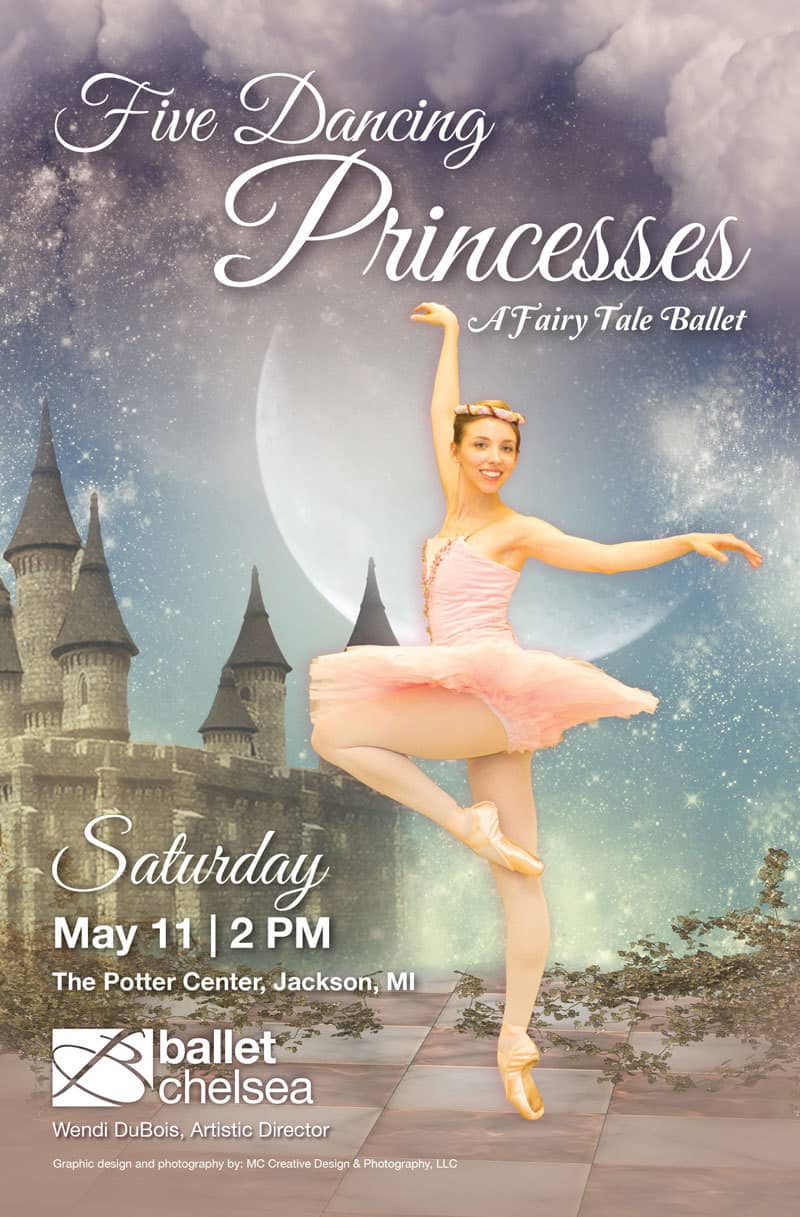 Ballet Chelsea is pleased to present The Five Dancing Princesses at the Potter Center located on the Jackson College Campus, Jackson, Michigan, Saturday, May 11 at 2pm.
This original full-length ballet with choreography by Wendi Dubois is based on the fairy tale The Twelve Dancing Princesses by the Brothers Grimm.  Set to the music of Wolfgang Amadeus Mozart, the humorous narrative features sparkling choreography performed by a lavishly costumed cast of dancers.  You will delight in clever fun that includes Queen Genevieve's foot fetish, King George's irate attempts to keep the lovely Princesses from wearing out their pointe shoes, a heated fairy fight between the Fair Fairy Rosalind and the Dark Fairy Casandra, and an evening of dancing with a troop of dashing Lords.
Please join Ballet Chelsea for a remarkable afternoon of fun and fantasy, packaged with a comedic twist on the traditional fairy tale. For Tickets and additional information visit balletchelsea.org/tickets
Synopsis of The Five Dancing Princesses…
Once upon a time, there were five beautiful Princesses who lived with their noble father King George Cotswold Goldemar and their lovely mother, Queen Genevieve, in the elegant Rose Palace. The Fair Fairy Rosalind carefully guarded the royal family's happiness and innumerable loyal subjects tended to the Princesses' every desire. In a nearby castle the Duke of Cardenio and four Lords appealed the Dark Fairy Cassandra to find some dance partners because they were very lonely. Cassandra secretly invited the five Princesses to the Castle where they danced the night away, tearing their new pointe shoes to shreds.  King George, angry about the torn shoes, issued a decree that anyone who discovered the secret of the torn shoes could select one of the Princesses as a companion. Peter, the Peasant who would be King, decided to take King George up on his challenge. With Rosalind's help, he tiptoed through the mist, discovered the Princesses' secret and notified King George about the nightly dance parties.  After King George calmed down, Princess Penelope happily accepted Peter's friendship, the Fairies made peace, the Duke and Lords became frequent visitors in the Rose Palace, and all lived happily ever after.
About Ballet Chelsea
www.balletchelsea.org
Ballet Chelsea is a 501(c) (3) non-profit organization that provides professional-level dance training to dance students, through performance opportunities, enrichment activities, master classes, summer intensives and pre-professional studies.
About the Potter Center
www.jccmi.edu/entertainment-events/potter-center
The Potter Center at Jackson College is comprised of the most versatile and complete performing arts complex in the area. Viewed separately, each of the three theatres is well designed, constructed and equipped. Viewed as an entire arts complex, the educational and entertainment possibilities are limitless.