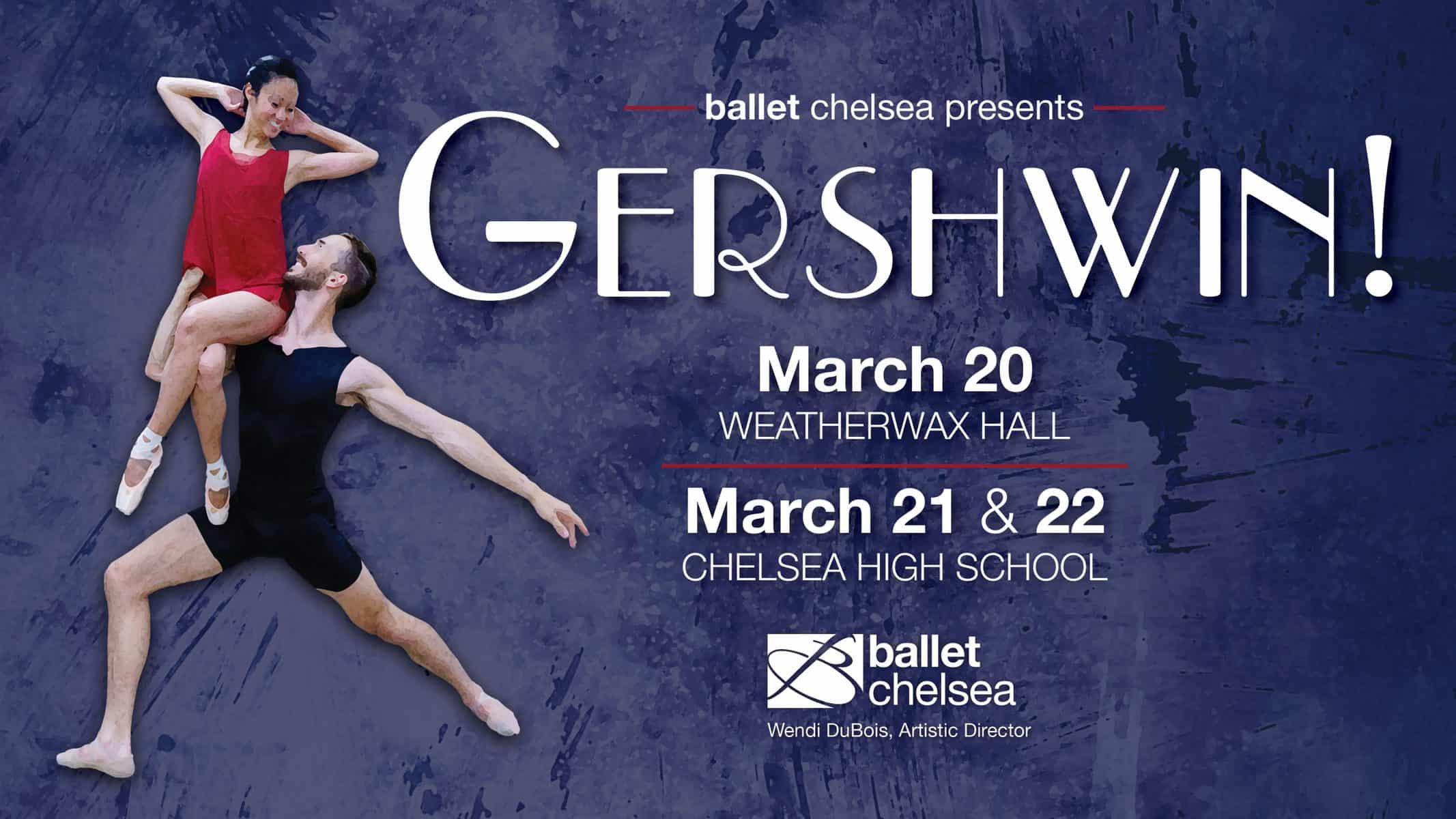 IMPORTANT UPDATE 3/13/20: The safety of our Ballet Chelsea parents, students, faculty and staff and the community is our top priority. As such, all shows of Gershwin! have been postponed in order to comply with Governor Gretchen Whitmer's guidance to cancel all events with over 100 people in attendance. We are considering options for rescheduling at a later date. Ballet Chelsea will provide more information as soon as possible.
Ballet Chelsea is pleased to present Gershwin! to audiences in Chelsea and Jackson, Michigan March 20-22, 2020. This collaborative production is both educational and artistic in scope, celebrating George Gershwin's musical legacy by bringing his music to life through dynamic, original choreography.
This production highlights Gershwin standards and show tunes choreographed by Ballet Chelsea Artistic Director Wendi DuBois, artistic faculty members Aja Brandmeier, Carrie Schotte, Annie Spellman and guest choreographer Alyssa Alger. Special guest performers include pianist Megan Emberton, vocalists Michael Wecht and Jessica Wood, Jackson Dance Company, and professional and pre-professional dancers from Ballet Chelsea.
George Gershwin's music speaks to audiences of all ages. As one of the most celebrated and influential musicians in American musical history, Gershwin bridged the gap between popular and classical mediums to create a uniquely American musical style, especially conducive to dance. Join Ballet Chelsea and guests as they perform to the work of Gershwin including Concerto in F, Rhapsody in Blue, An American in Paris, and more!
Tickets
Show times for Gershwin! are 7pm March 20 at Weatherwax Hall in Jackson, MI; 7pm March 21 and 2pm March 22 at Chelsea High School Auditorium. Jackson Symphony Orchestra's beautifully renovated Weatherwax Hall provides a unique opportunity to experience dance and music in small private venue, allowing viewers to connect with the performers in ways that are not possible in a larger hall. Ballet Chelsea will bring to Weatherwax an elite selection of works particularly suited to the intimacy of this venue, offering our audience a rare opportunity to see and feel dance in a deeply personal way. The performances at Chelsea High School Auditorium will include additional, fully produced works.
Advanced tickets are $20 for adults and $15 for children, students and seniors 60+. Group rates are also available to clubs/organizations of 10 or more attending a Chelsea performance. Tickets can be purchased at balletchelsea.org/tickets. If not sold out, tickets at the door will be $25. Reserved seating for people with disabilities is available upon request. For more information, call Ballet Chelsea at (734) 475-3070, or email info@balletchelsea.org.
Show dates and times: TBD
TICKETS NOT CURRENTLY AVAILABLE