Ballet Chelsea is thrilled to present Sleeping Beauty, reimagined, to an in-person audience on May 23rd at Chelsea's Robin Hills Farm. This production is unlike Ballet Chelsea's traditional, fully staged rendition. We will be trading in our usual sets, drops, and props for the natural beauty at the Robin Hills Farm. Performed in an outdoor amphitheater, this production will focus on the power or community, support, and love. We hope you will join a community of dance lovers for an unforgettable outdoor rendition of this classic ballet, Sleeping Beauty.

When: May 23, 2020 1pm & 4pm
Where: Robin Hills Farm
Duration: 1-hour
Price: $15/person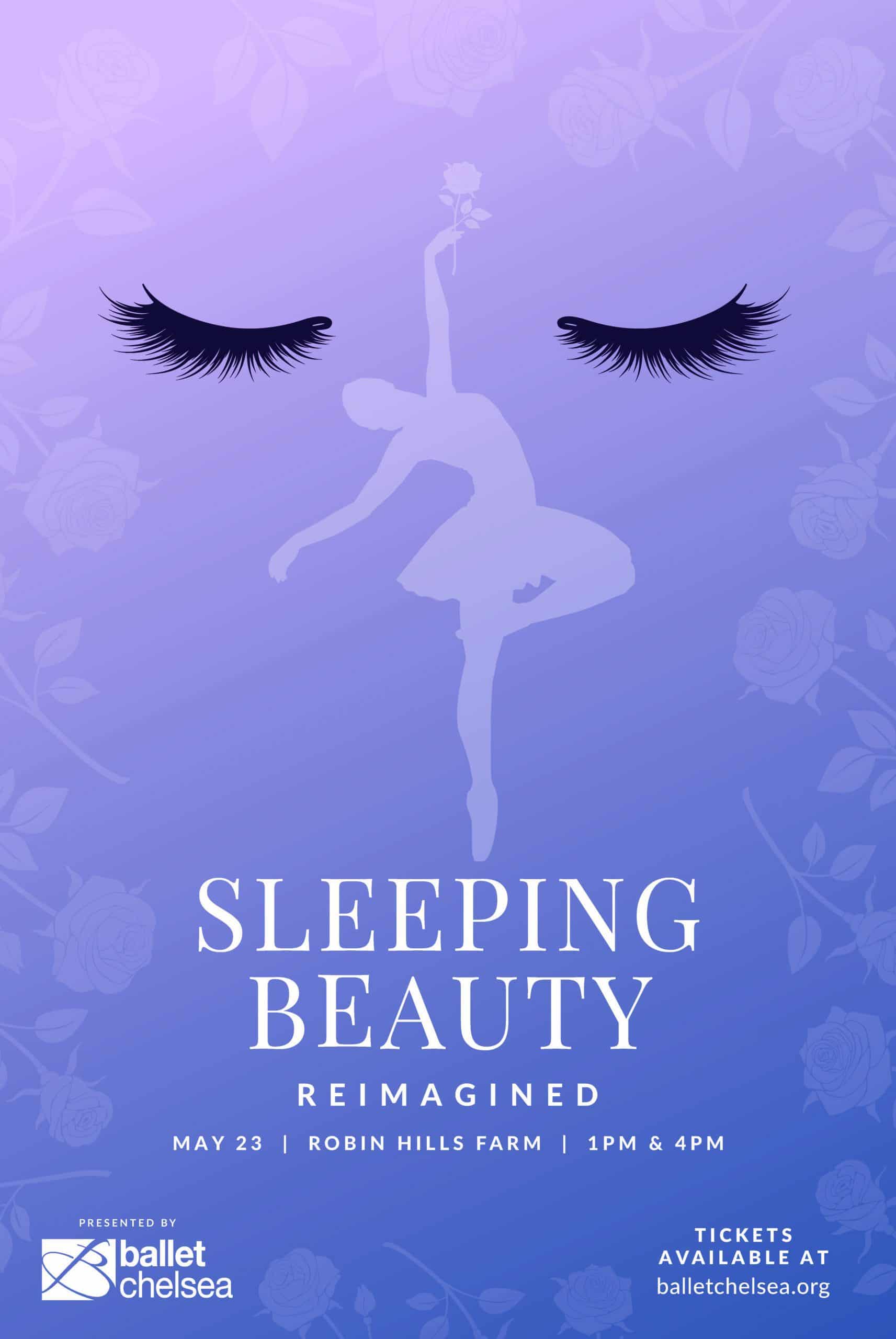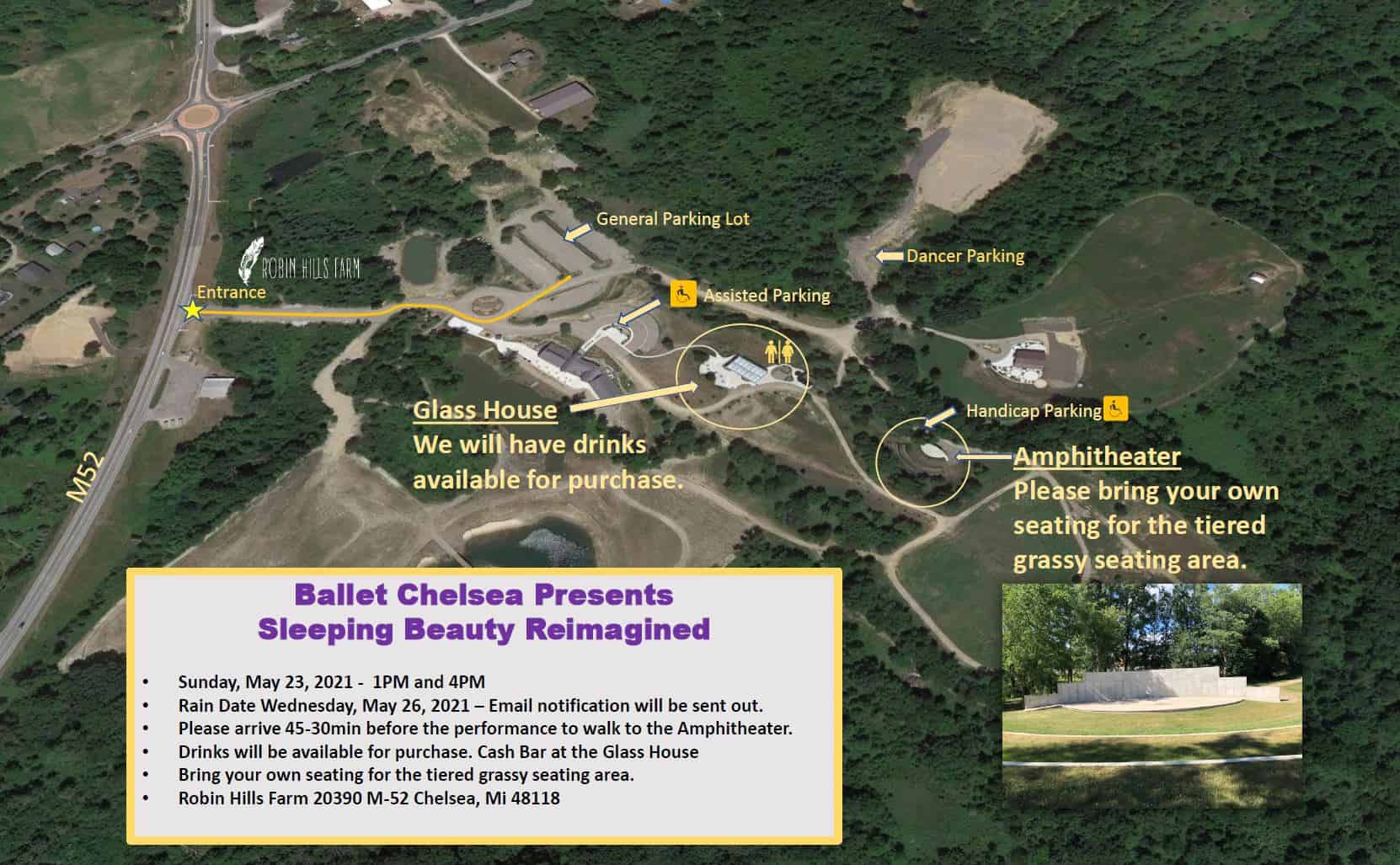 No there will not be a program, however a narrator will guide guest through our reimagined Sleeping Beauty.
While the production only lasts 1hr we recommend that you and your party arrive 30 minutes in advance to allow time to park and make your way to the amphitheater. 
All guests should enter the main parking lot of Robin Hills Farm. Ballet Chelsea staff will be on hand to direct you where to go. If you or someone in your party requires handicap parking please let staff know and you will be accommodated.
Yes! Please have your ticket available digitally or printed to show staff for admission into Robin Hills Farm. All attendees are required to show a ticket for admittance.
There is tiered seating around the amphitheater. To make your experience more enjoyable we encourage you and your party to bring pillows and blankets!
Of course! Restrooms, including handicap accessibility, will be available.
Yes! There will be food and drink available for purchase at the event. Attendees are not allowed to bring personal food and beverages.
If the event is postponed due to weather Ballet Chelsea has scheduled a rain date for May 26th at 5:30pm and 7:30pm. You will receive an email notification of any cancellation and rescheduling. Information will also be available on our website balletchelsea.org or Facebook and Instagram @balletchelsea.
We ask that all guest adhere to Michigan's current covid-19 guidelines available here.
"Working on artistic projects during a global pandemic has led us to dig deeper, finding new and creative ways of working. Just as we never thought we would list a "barn" as a location for dance classes, we never imagined that we would be staging and filming a Nutcracker production that uses natural beauty as a backdrop for movement and music. We are grateful and excited for every opportunity to bring the joy of performance to our communities."

Wendi DuBois, Ballet Chelsea Artistic Director
Ballet Chelsea is thrilled to be offering in-studio classes for their 2021 summer program. The summer dance programs provide a tremendous experience and opportunity to explore movements of all kinds while honing dance techniques. Their unique programs allow dancers to immerse themselves in a professional training environment using creativity and imagination to develop and enhance … Read more
Stay In Touch! Join Our Mailing List!